After a long wait since being shortlisted in the Irish Logistics & Transport Awards 2020 "Freight Forwarder of the Year" category, the awards ceremony finally took place on December 3rd 2020.
The virtual ceremony, the result of the inevitable cancellation of the usual glitzy black tie awards ceremony due to COVID19 restrictions, was a very well presented and polished event streamed live across the industry.
Toga made a day of it and again called in our new "house caterers" Shoda to provide a gourmet meal for all staff.
Once the awards got underway, together with the addictive interactive quiz that was running in conjunction with the awards presentations, the food and (soft) drink started to flow in Toga House. So were thrilled when our name was read out as the winner of the category, beating three major global logistics players in the process. Our Operations Director, Darragh Toner did a fine job in the live Zoom interview and graciously accepted our award.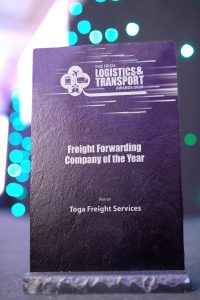 Now the food continued in a more relaxed but celebratory mood, so much so that we almost missed the announcement of the "Overall Transport & Logistics Excellence Award". Darragh took his place in front of the camera again in tense anticipation of the announcement – Toga Freight Services are the winners! Huge celebrations commenced and the atmosphere in our very busy operations room was more like the scene from a lottery winners house!