Bologna/Dublin, October 18th, 2023 – One Express, Italy's number one network for palletised shipments, has appointed Toga Freight Services as their exclusive and sole member in the Republic of Ireland.
The appointment completes European coverage for One Express with Italian shippers to Ireland now being able to enjoy a "customs free" transit to the most westerly part of the EU.
One Express has become the best Pallet Network in Italy in just 15 years and is now the leading express pallet consignment service in Europe. THE express pallet service! They are now known as The One!
Established in 2008 with just 35 members, One Express handled 363,300 pallets per year. Today the network has 135 members and handles 3 million pallets annually.
With three National hubs in Bologna, Milan and Naples for a total of 45,000 square metre and 330 docks, One Express has developed a robust daily network across Italy, with over 900 operators and 1,300 vehicles on the move every day. Guaranteed deliveries throughout Italy in 24/48/72 hours and in 48/72 hours across Europe.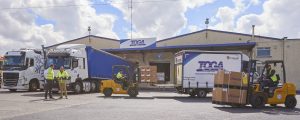 Toga Freight services is one of Ireland's largest and longest established privately owned groupage operators. Founded by Peter Toner and Martin Gately (Toga) in 1978, the company handles around 300,000 groupage shipments a year, mainly to Ireland. The company also handles around 200,000 customs declarations for its approximately 5,500 customers, including almost half of the top 100 manufacturers and retailers in Ireland. The company is now owned and run by Robert Dickinson, Darragh Toner and Muriel Corish following a management buyout in 2023.
"The MBO has created stability for Toga and marks the start of a new chapter for the company" says Managing Director, Robert Dickinson. "Growth across Europe is our key strategy along with offering our large client base unique services, not available elsewhere. One Express gives us unique power in the Italy to Ireland market with collections possible from every region every day. We will be operating daily linehaul from the giant hub in Bologna directly back to Dublin." Dickinson continues.
With 50 employees at two locations in Dublin, the company operates a 6,000 square metre ACP customs warehouse where all inbound freight is processed. In addition, the company maintains a network of 15 depot partners in Ireland who provide daily scheduled transport to and from their own distribution centre. Around 250 vehicles are used on behalf of Toga daily to deliver goods in Ireland. Turnover in the current year is estimated at around 12 million euros.
Claudio Franceschelli, Founder and CEO of One Express says: "We are happy to start this partnership with Toga Freight Services. One Express is a company in great development and we are happy to expand our services with a solid and successful partner such as Toga Freight Services.
Our distinctive point in the Italian market is the quality of service, speed and accuracy in pickups and deliveries. To achieve this, every year we invest in new IT tools, in training of our staff and our network of Italian members. Every day we are determined to become the best transportation services provider in Italy. We are sure that thanks to the new collaboration with Toga Freight Services, we will be able to achieve great successes together!"