TOGA Group have been contracted by the global retail chain L'Occitane en Provence to assist with their summer promotional tour of Ireland.
Having assisted in the import from Great Britain to Ireland, TOGA will store, transport and set up their fabulous traditional Citroen mobile shop at sites across Ireland. The first site was at one of Dublin's premier shopping centres, Liffey Valley, where our team delivered and helped set up the "Pop up shop"
There are a number of events on the schedule this summer and we are delighted to be associated with such globally recognised and respected brand.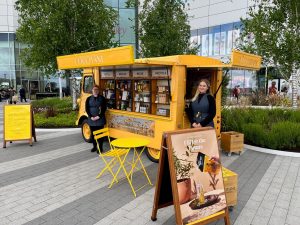 The feeling of Provence outside Liffey Valley Shopping Centre