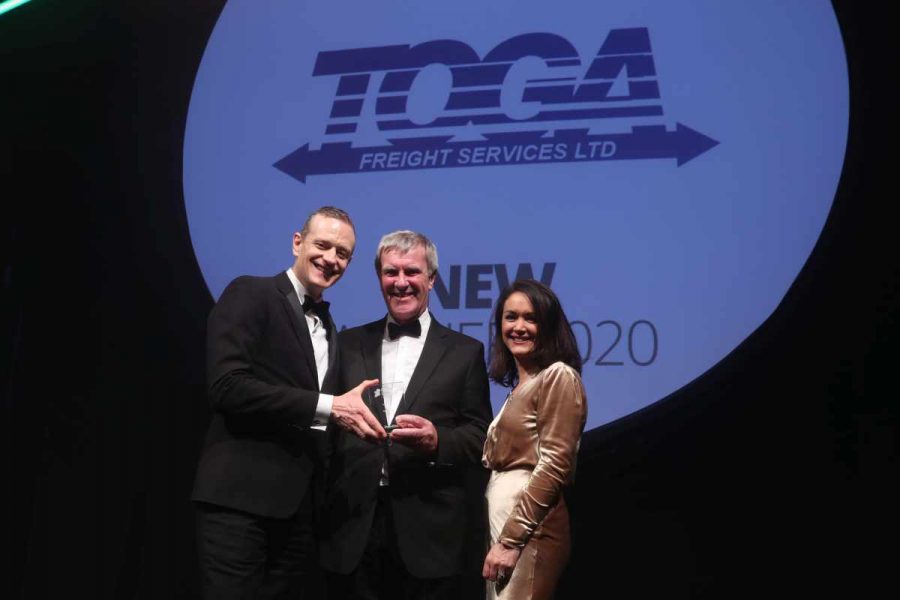 It would be true to say that on March 6th, when our MD Martin Gately was proudly receiving our very much deserved "Deloitte Best Managed Companies Award" at a glitzy black-tie event in Dublin's convention centre, that this day would probably be the most memorable day of the year for us. Maybe we had peaked too early? But rest assured, our marketing people would ensure our success stayed in the forefront of people's minds for the whole year.
Back then we had heard about COVID 19, but it wasn't affecting life in Ireland, yet. The news reports from the UK we saying that over 100 people a day were catching the disease. Indeed, Ireland had reported it's first case just a week earlier on February 29th. But as we all celebrated the night away in CCD, social distancing hadn't yet become a thing and with the exception of some hand sanitiser stations here and there, the night was a normal business event.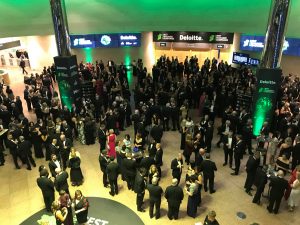 It was a week later, March 13th (Friday the 13th!) that COVID got our attention fully. We had a meeting planned in our boardroom with a prospective new client from Madrid. A tremendous opportunity for us to impress and develop our services from Iberia throughout 2020 and beyond. The client had sent 2 senior executives to Dublin and we'd arranged accommodation in Moran's Red Cow Hotel, just a couple of miles from our depot. But as the 10am meeting time approached, there were voices in our Ops room asking whether it was wise for us to welcome people from Madrid to our facility. Sure enough, the news gathered pace that morning about the rampant spread of the disease in Spain, and particularly Madrid, so we cancelled the visit, replacing it with a courteously brief and nervously socially distant cup of coffee in the bar of the Red Cow.
The proposed new business opportunity was put on hold, although we have kept up dialogue with our new friends from Madrid and we expect the business to finally start in Q2 of 2021 – about a year after it was originally planned.
TOGA is a Family business, obsessively so. We pride ourselves on the "Toga Family" relationships that makes us different to the corporate leviathans that dominate global logistics. So as COVID gripped Europe our first thoughts were with staff and the safety of them and their families. A swift reorganisation of the administration areas kept people apart. A homeworking schedule was introduced and the building became a closed off area to all except the full time staff. Our boardroom has been untouched since the March 13th meeting planned for the Madrilenians, in fact the calendar on the wall was still showing that date up to the point it was removed at Christmas.
Business dropped off sharply in April, but soon recovered as we, and I'm sure many other carriers worldwide, became involved in the global movement of PPE. On April 20th we organised the import of over half a million face masks from China for a major Irish retailer, seen at the time as a major supply coup by our customer in the face of global shortages.
As the initial European lock downs were eased, business started to boom for us again and we experienced growth that could never have been forecast. The home delivery volumes started to rise and have never stopped, accentuated by Brexit and Christmas peaks resulting in an increase of over 200% year on year.
Supply chains were strained for the last 6 months of 2020 as businesses found other ways to trade or to find new suppliers and customers to keep business growing. We found that almost all of our customers found ways to recover from their lock down losses and press on with their own growth. We were proud to help our customers large and small and to "ride the wave" with them as normality tried to resume in Ireland.
August to November was an insanely busy time in TOGA. So much so that we converted a 8,000 st ft overspill warehouse into a dedicated parcel sorting facility, complete with new loading bays, conveyor systems, offices and kitchen areas and racked sortation systems. We also hired five more permanent staff to boost our warehouse and operations department. During all this we also embarked on staff training to help with our Brexit preparations. We also contracted a specialist logistics training company to embed with us for 3 months to help fine tune our processes and procedures.
December was memorable for us in two ways. Firstly, on December 3rd we were thrilled to win two awards at the Irish Logistics & Transport Awards 2020. We had entered in the "Freight Forwarding Company of the Year" category and were astounded to win against such esteemed competition, and as celebrations continued in our Operations room we were shocked to be announced as winners of the "Overall Logistics & Transport Excellence Award". This was just reward to all our staff for the incredible efforts they have put in during the whole of 2020.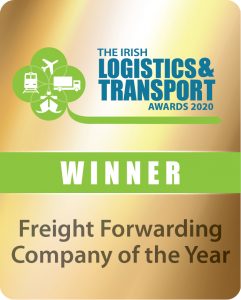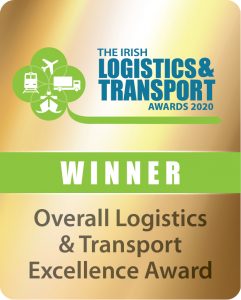 Secondly, December gave us the highest volumes we have ever experienced as pre-Brexit "up-stocking" became every retailers priority it seemed and as one of Ireland's largest Customs Clearance companies, we found ourselves involved in literally hundreds of Zoom & TEAMS type calls with clients to offer our advice about Brexit and to ensure that our customers were prepared for the extra administrative requirements that would be needed from Jan 1st. It is a strange and quirky benefit of COVID that without it, we would have struggled to have as many meetings with as many people as we actually did. We are very satisfied that the work we have put in on the Brexit preparations since 2018 have placed our customers in a very safe position and able to trade as normal as is possible post-Brexit.
So 2020 will not be forgotten quickly by us anytime soon. To win 3 major awards and return volume and financial figures that are exceptional in our industry would be memorable enough, but to achieve that during a global pandemic that affected almost everything we do gives us reason to be doubly satisfied.
Lots of plans in place for 2021 as the world recovers from COVID and the populations get vaccinated – but as 2020 showed us from the start, you can never quite be sure how things will pan out.
Best wishes for 2021 from the Directors and Staff at Toga Group, Dublin